1 Minute to Win it Games
(NEW)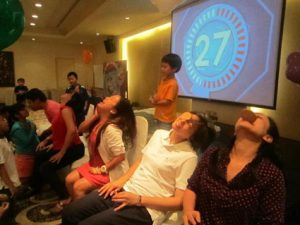 Based on the popular TV Show, teams will play telematch-like games to try to battle it out to be the winner!Customisable to suit the age group of your guests, these games can also involve the parents and other guests! See the video here
Mini Dinosaurs Hunt + Fossil Digging
Mini Dinosaurs Hunt – Children becomes little palaeontologist as they scramble to find the "dinosaur fossils" buried in the grounds of the party! Once they find the pieces of the fossils, they can explore further by joining the broken pieces together.
This 1.5 hour program also includes dinosaur fossils digging for every child. They will have fun discovering how they can be an palaeontologist as well as learning about the different dinosaurs and why they are extincted! The children get to keep this unique souvenir after the party!
This is exclusive concept game that you can find here and no where else!
(NB. Tools like hammer and chisel used for digging will NOT be given to the kids after the session for safety reasons.)
"Julia's birthday party was a success! The kids have been talking about the party over and over again. The children were very pleased!"
— Outi, Paolo and Julia Borella (who booked Mr Bottle's Kidsparty for the Hunt.) —
"Thank You for the efficient and lovely service , the party was a hit with the Caricature artist and the game planners! We are very happy with their contribution to the party and conducting the games in such a lively way. The children were thrilled to have their own personal caricature!"
— Shilpa,party for her child at The Makena –
Interactive Games
Tired of a boring party? Then get our interactive stage games to get all your guests going! We provide and design interactive games for children to make any event come alive! Not only will participants on stage get to delight in the fun, the spectators will have a roaring good time watching it!
Customised to the age groups of the kids, you will get games that are suitable for young as well as older kids when you book with us!
Who Stole The Birthday Cake?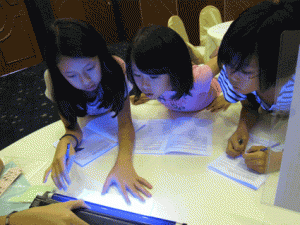 Who stole the birthday cake? Can the kids solve the crime? The game master will bring the
children on an adventure to find the "stolen" cake! Price range from $25 -$40/kid ($40 option includes craft workshop to make inspector badge, CSI training, who stole the birthday cake and payroll at the end of the crime solving, 2hours of endless fun!)
Carnival Games:
Basketball

Golf

Shooting

Ring Toss

Racing Car

Soccer!